The Opening ceremony! of the 2023 Nanjing Mining Expo!
Release time:2023-05-04 Number of hits:229
Explore the treasures of the earth and meet ancient newborns. On May 4, the opening ceremony of the 2023 China Nanjing (International) Mineral, Gem and Fossil Expo was held in Nanjing.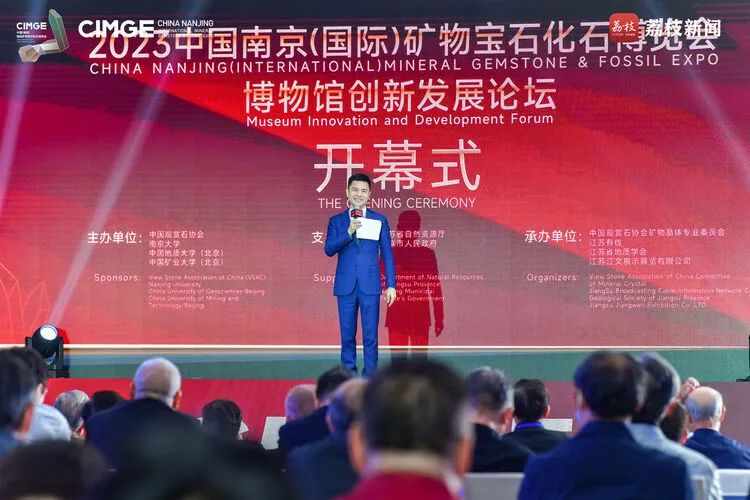 The 2023 Nanjing Mining Expo is a large-scale professional exhibition of minerals, gemstones and fossils. It is co-sponsored by the China View Stone Association, Nanjing University, China University of Geosciences (Beijing), and China University of Mining and Technology (Beijing). Supported by the China Ornamental Stone Association Mineral Crystal Professional Committee, Jiangsu Cable, Jiangsu Provincial Geological Society, Jiangsu Jiangwen Exhibition Co., Ltd., co-organized by the Jiangsu Provincial Bureau of Geology and the School of Earth and Space Sciences of Peking University.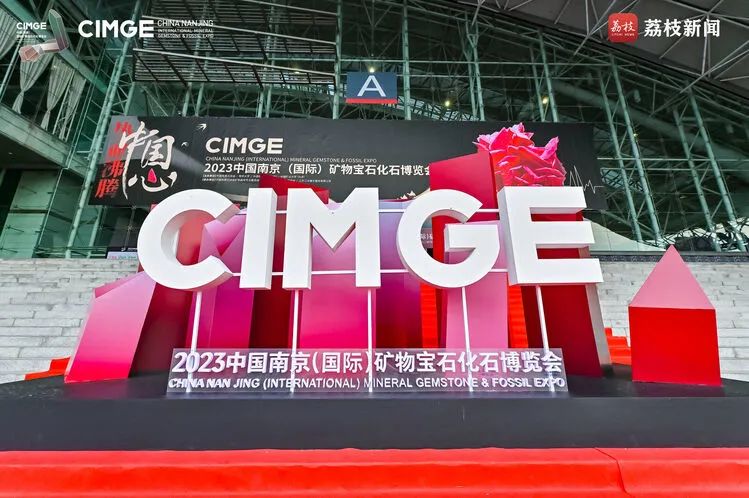 At the opening ceremony, big names in the industry, academic experts and scholars, collectors at home and abroad, mineral lovers and media representatives gathered together. Changshou Jiahua, former vice minister of the Ministry of Land and Resources and founding chairman of the China Ornamental Stone Association, and Zhou Jilin, member of the Standing Committee of the Party Committee of Nanjing University, delivered speeches respectively.
Shou Jiahua mentioned in his speech that mineral crystals (gemstones) are favored by more and more collectors and lovers for their brilliant and colorful colors, varied shapes, and unique and scarce resources. Because of its versatility in the international community, it has built a bridge for in-depth exchanges and cooperation between my country and the international mineral and gemstone expo industry, which is also the gist of this mining expo.
Zhou Jilin introduced that science popularization activities, as one of the six themed activities of this Mining Expo, provide a good platform for the general public to learn about mineral crystals, gems, fossils, and meteorites, and provide a good channel for college students to broaden their horizons. It provides learning and exchange opportunities for geologists and mineral enthusiasts, and plays a positive role in improving the ability of science popularization and the scientific quality of the whole human.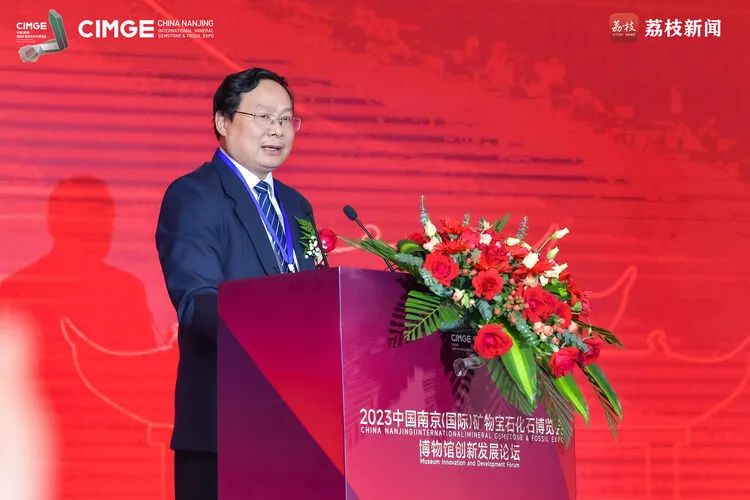 The 2023 Nanjing Mining Expo gathers experts, scholars, miners, collectors, buyers and other professionals at home and abroad, and the international concept of "using stone as a medium to exchange and learn from each other" has emerged. At the scene, foreign guests sent congratulatory videos from thousands of miles away, sharing their imagination of "stone" and witnessing the grand opening together.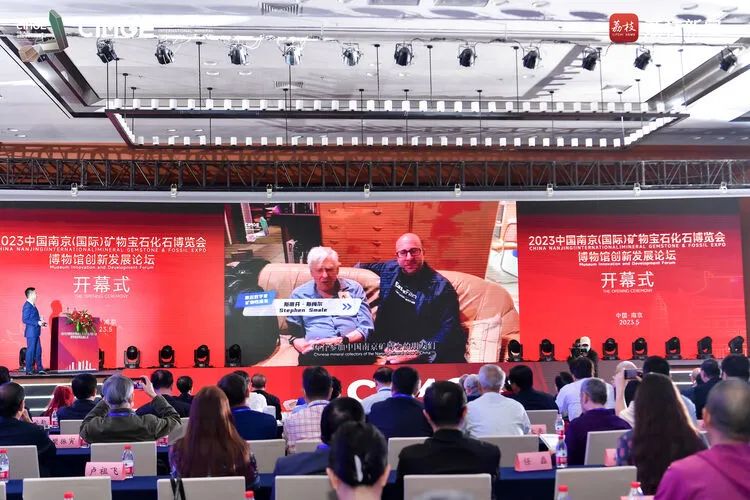 Hundreds of thousands of top-level exhibits led by "Queen of China" dazzle
With the official opening of the 2023 Nanjing Mining Expo with the theme of "Red Minerals", the most dazzling exhibit of this year's exhibition, "Queen of China", was unveiled in the form of 3D animation.
"Empress of China" is produced in Wutong Mine in Guangxi. It is 33cm high and 39cm wide. In 2011, at the 55th Tucson Minerals Show in the United States, the "Queen of China" made its debut, which amazed the audience and made the world realize that the high-quality rhodochrosite produced in China is more shocking in terms of single crystal size and overall shape. It is reported that the "Empress of China" was once owned by an American company, and with the efforts of Chinese collectors, it was acquired and returned to China in 2014, where it "settles down" in Nanjing.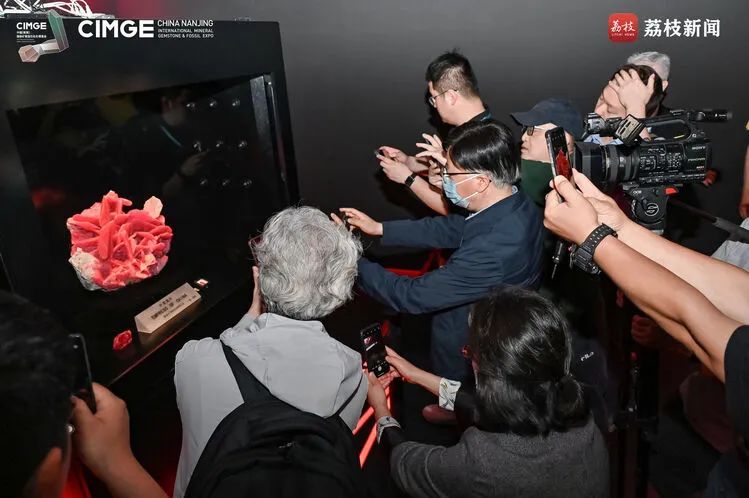 High-quality science popularization activities are another important way to make exhibits come alive. The 2023 Nanjing Mining Expo has specially set up a science popularization activity area, aiming to stimulate the curiosity of young people and all visitors to nature, and to stimulate interest and enthusiasm for further understanding of rich mineral resources. The science popularization activity area planned seven activities including "Taosha Taobao", "Knocking on Fossils", "Looking for Yuhua Stone", "On-site Fossil Restoration", "Opening a Crystal Ball", "Periodic Table of Elements Cabinet", "Science Popularization Cultural and Creative Products Area" and a mineral hobby Reader Forum, in a good atmosphere, in rich projects and interesting experience, in the gathering and sharing of enthusiasts, so that popular science knowledge spreads farther.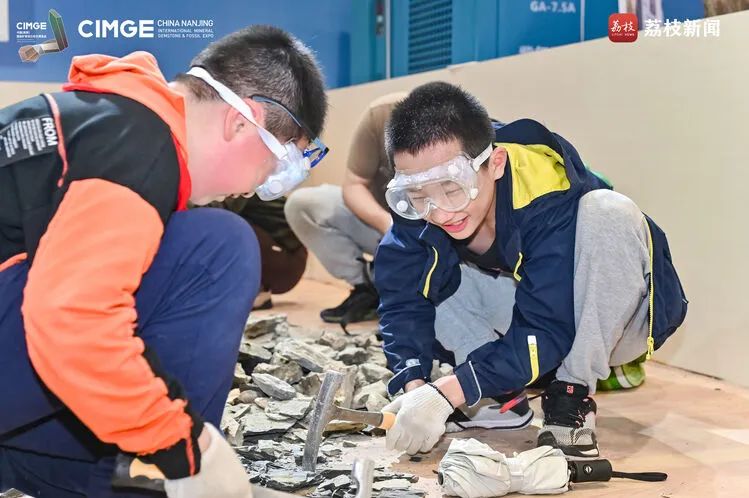 The 2023 Nanjing Mining Expo will continue from May 4th to May 7th, striving to perfectly present hundreds of thousands of international high-quality mineral gem fossils to Nanjing residents and friends from afar, providing mineral lovers with A rare opportunity for learning and exchange, creating a truly international grand event for the mineral, gemstone and fossil industry in Nanjing.